Aha-Soft announces the release of Perfect Office Icons, a royalty-free collection of stock icons for office and application developers.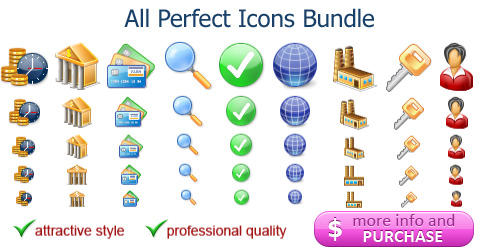 Perfect Office Icons are the perfect choice for busy office developers. Providing over two hundred images assembled into a set with matching properties such as colors, gamma and style, Perfect Office Icons can be used in office applications and scripts, stand-alone text editors, as well as on blogs, forums, and Web sites. Perfect Office Icons will make an application, Web site or applet look professional and consistent throughout. All images in the Perfect Office Icons collection are royalty-free. The entire collection is immediately available and comes with a full-size preview.
What's Inside
The collection of Perfect Office Icons includes images that are likely to be used in office applications, text editors, and online publishing mechanisms. Icons like Open and Save, Print, Flip and Rotate, Cut, Copy and Paste, MS Word, Text, Spreadsheet, Send and Receive, Page Number, Edit and Clear, and many others are included.
From the technical standpoint, the collection includes images in a variety of formats, sizes, color resolutions, and image styles. Each and every image from the collection comes in sizes of 16x16, 20x20, 24x24, 32x32, and 48x48 pixels. Normal, disabled, and highlighted states are included for every icon. 256-color and semi-transparent True Color versions are provided. Perfect Office Icons are delivered in Windows Icon (ICO), Bitmap (BMP), GIF and PNG formats for easy integration with every application. The entire collection of 406 office icons is available for only $129.95.
About the Company
Founded in 2000, Aha-Soft offers a variety of software tools and ready-made icons to webmasters and software developers worldwide. The company manufactures tools for designing, editing, organizing and publishing icons and small graphics, and provides a wide range of ready-made, royalty-free icons. The company offers thousands of tastefully designed and individually crafted icons. All images are available a-la carte or assembled to matching sets. Custom icon design services are available by request.
Perfect Office Icons can be previewed online at
http://www.perfect-icons.com